If this is your first photo shoot, as is the case with most Shameless clients, we know that the process can seem a bit mysterious.  We're happy to help de-mystify!  Here's what to expect at your shoot, from props to posing, and from first to last.
First things first: many people ask us what time to arrive at the studio, and whether they should arrive a few minutes early.  We ask that you arrive at your scheduled start time rather than early, as our team needs time to make sure all the right wardrobe, accessories, and props are in place before you arrive.  If you happen to come early, there are some great cafes within walking distance (on Bedford in NYC or on Balboa in SF), and we recommend relaxing and getting yourself a treat in the final minutes before your shoot.
Once you come in, we'll take your coat (and your bags, if you brought extra clothes and props for the shoot) and usher you into the studio space. Our studio is a wonderland of girliness, just wait until you see it! We have props, accessories, and wardrobe of all kinds, and it will be your playground for the day.
We'll start by choosing your wardrobe for the shoot.  Depending on your package level, you'll choose between 1 and 6 outfits.  It can be hard to narrow it down with so many great options, but we'll give you honest opinions about what outfits look best on you and will help create the types of images you envision.  We will also discuss what types of props and sets will support your desired looks.
After wardrobe, we'll get started on your makeover.  We want you to absolutely adore your look, so let us know if there are certain hairstyles or types of makeup that you love — or don't love!  We ask that you arrive at the shoot with a clean, moisturized face.  Your hair should be free of products and, ideally, washed 1 day before the shoot.  We have a wide range of time-tested makeup and hair products, but you're welcome to bring your own products if you have favorites, or items that you know work well with your coloring, skin, or hair.
Once your makeover is complete & your photographer has decided on your props and sets, you're ready to step in front of the camera!  It's a moment that's very exciting… but also a bit scary for many folks!  Don't worry — we understand, and we're here to help you every step of the way.  Maxine, Carey, and Sophie are expert pose coaches, and they know all the best and most flattering pinup, boudoir, and old Hollywood poses.  They will lead you through each pose from head to toe.  The poses often feel a bit awkward and counter-intuitive, but trust us — you'll thank us once you see the photos!
One important note is that pinup modeling can be very physically demanding.  If you have any health concerns, let us know and we're happy to adjust our posing accordingly.  Many pinup poses involve things like standing on one foot (in stiletto heels, no less!), lying on your back and holding your legs in the air, doing back arches and torso twists, and more.  It will feel a lot like a core-strength workout.  For that reason, we recommend bringing food and snacks so you can keep your energy up along the way.  We also recommend refraining from exercising for a few days before your shoot so you're fresh and have no soreness.
During the shoot, your photographer will direct you through different poses and suggest different expressions and moods for you to play with (sultry, mischievous, sweetie pie, etc).  Have fun with it!  We love for spontaneity and real personality to come through in the images.  It can be helpful to practice in front of a mirror before your shoot.
Your photographer will shoot several different poses for each of your chosen outfits.  Once the shoot is complete, we'll let you know that "It's a wrap!"  You'll receive your unedited proofs within 72 hours of your shoot, and then you can decide which special images you'd like to select for retouching and printing.  We're happy to provide second opinions during your selection process — don't hesitate to give us a shout.
Our packages include from 2-12 images, but you're welcome to order as many extra images as you like.  You can also choose to order photo products such as hardcover photo books, canvas prints, and much more.
The Hair
From victory rolls to pin curls, we love vintage hairstyling. We'll help you find a hairstyle that's flattering, fun, and timeless. If you have a particular style in mind, email us before your shoot to share your inspiration!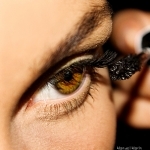 The Makeup
Arrive without makeup, but with a clean and moisturized face. This is the perfect canvas for the makeup artist. We find makeup to flatter all different skin colors and facial features, but if you have specific ideas about your makeup, feel free to send us a sample image before your shoot.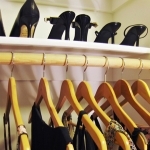 The Wardrobe
Come play in the Shameless closet! We have fabulous retro and vintage clothes from size 0 to size 3x: flirty dresses, elegant gowns, fun playsuits, lingerie sets and more. We also have accessories and jewelry galore. We recommend that you bring a few outfits from home as well. The more options, the better!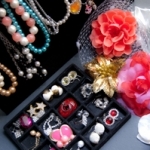 The Accessories
Bling. Need we say more?

The Props
We have lots of scenes and props to help create classic images. If you have a specific idea, please discuss it with us prior to the shoot so we can ensure that your dream becomes reality.

The Shoot
Our goal is to capture you at your most confident and beautiful. We specialize in finding the poses, angles, and lighting to flatter different body types, so worry not if you haven't had experience in front of the camera before. We'll take you through a number of poses and give lots of feedback to make sure we get the images just right.